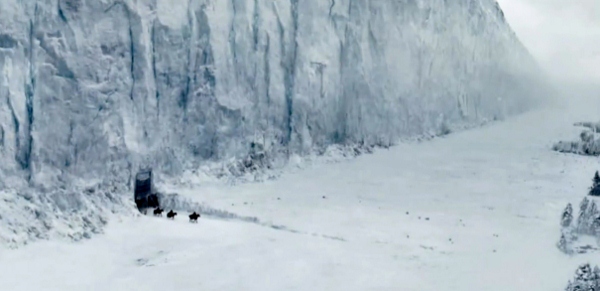 Needless to say, it's winter, and it's cold, but I swear I'm enduring a long winter on "The Wall" in Westeros. In NYC, it's been 14 degrees every morning while I wait on the platform for the subway. I never used to get cold, but now I am always freezing. It's like when I go outside, the time it takes for me to get cold is 10 seconds flat. When I come in from the cold, getting myself warm is impossible. The only way is four layers of clothing and then I sit under my comforter on my couch next to the radiator with gloves on for about 40 minutes. The second I get out from under that blanket, I get cold almost immediately and then I have to get back under the blanket again. I thought I was imagining it, but when my boyfriend was here this weekend and I got up to get a glass of water, he would notice that I would be DRASTICALLY colder to the touch when I got back.
The only thing that's changed is my weightloss. My first thought was that it must be caused by the loss in "insulation," but it seems pretty extreme for that. So I did some research online. A lot of places suggest that restrictive diets can cause your metabolism to slow and then your body shuts down certain functions, making you prone to getting cold since your energy is being stored and redirected elsewhere. I don't think this is the issue because I'm following the Nutrisystem program to the letter, so while my food intake is controlled, its not below what it should be. Then I found this other point of view on the topic. If you are heavier, it stands to reason that you have more blood vessels over the surface of your fleshy-fattiness. Those vessels are your body's natural cooling system. So when you lose a significant amount of weight, those blood vessels don't just go away. You end up with less skin surface area, but the same amount of blood vessels you had before. Whether they eventually become absorbed or not is unclear. Hence your cooling system is far more efficient and sensitive than someone of a similar size who has not lost a huge amount of weight. From what I'm experiencing, this seems to make a lot of sense. It takes about 6 months for skin to adjust to a huge amount of weightloss, so maybe it will take a similar amount of time for my blood vessels to adapt? Time will tell. All I know is if I have to endure another winter "On the Wall" I think I'll become a deserter of the Night's Watch.
In other news, I've officially lost 80 lbs! It's pretty nuts. I'm proud of the work I've put in and I'm excited to continue all the hard work ahead. It's crazy. This goal actually seems attainable. I'm just about 2/3 of the way there and as I make dates for vacations and events this summer and count the weeks between then and now, I'm realizing that I could very well be AT my goal weight and into maintenance by then if I stay focused. How AMAZING is that? Here's to a great week for all of us!